Federal regulators announced warnings against two major food and beverage industry groups and a dozen nutrition influencers on Wednesday, as part of a broad action to enforce stricter standards for how companies and social media creators disclose paid advertising.
The Federal Trade Commission sent warning letters on Monday to American Beverage, a lobbying group whose members include Coca-Cola and PepsiCo, as well as the Canadian Sugar Institute and a dozen health influencers who collectively have over 6 million followers on TikTok and Instagram. The agency flagged nearly three dozen social media posts that it said failed to clearly disclose who was paying the influencers to promote artificial sweeteners or sugary foods.
The crackdown, which represents more aggressive enforcement of the FTC's rules, signals that the agency seeks to set a new precedent for holding both influencers and industry accountable for social media marketing campaigns that fail to make clear who is funding them. The action also could dramatically change the social media feeds of popular influencers who now often rely on vague hashtags like #ad or #sponsored rather than clearly naming the brand or company paying them.
The action follows a months-long investigation by The Examination and The Washington Post that revealed how the food and beverage industry had enlisted popular dietitians to promote industry-friendly messages on social media posts that often failed to disclose the names of sponsors.
Subscribe to our newsletter
Global health reporting, straight to your inbox
Samuel Levine, the director of the FTC's Bureau of Consumer Protection, said that "sophisticated groups" like trade associations "should be familiar" with the law. With today's action, Levine said the FTC seeks to set a precedent for disclosure that applies not only to the food and beverage industries but across the entire influencer marketing sector.
Levine said he expects the announcement "is going to be heard loud and clear, not only from trade associations and influencers in this space, but also in other industries that may think that influencers don't need to disclose these connections."
An American Beverage spokesman said the group believed it had taken "meticulous steps" to be transparent about its partnerships with dietitians. "Importantly, no question has been raised about the substance of these posts," said spokesman William Dermody. "We will continue our ongoing commitment to disclose the relationship between dietitians and American Beverage, and we appreciate the FTC's guidance on how to best ensure transparency for consumers."
The FTC's action reflects the agency's latest effort to set standards for social media marketing, a rapidly expanding sector that has been described as the Wild West of advertising. Over $6 billion is expected to be spent on influencer marketing in the United States in 2023, with another $7 billion to be spent in 2024, according to estimates from Insider Intelligence.
Among the influencers who received warning letters were registered dietitians with large followings, including Stephanie Grasso, Cara Harbstreet, and Andrea Miller, as well as a physician, Idrees Mughal, who goes by the name "Dr Idz" on TikTok, Instagram and Facebook.
"I am committed to ensuring my continued compliance with these guidelines to the fullest extent," Harbstreet wrote in an email Thursday. "Conflicts of interest are not something I take lightly, and I have stringent standards in place to determine which partners I work with."
Grasso, Miller and Mughal haven't responded to requests for comment.
"Influencers, especially folks like dietitians and other medical providers who are trusted by the public, need to take these warnings seriously," said Levine. "We're disappointed to see this kind of influencer marketing."
The Canadian Sugar Institute didn't respond to requests for comment. In September, both American Beverage and Canadian Sugar said the nutrition influencers they paid for social media campaigns had adequately disclosed their relationships with the trade groups through hashtags or other information listed on the social media posts. At the time, several influencers who worked with the groups also said they believed they had complied with disclosure rules by using hashtags or other notifications to followers that the posts were sponsored.
Marion Nestle, an emeritus professor of nutrition, food studies and public health at New York University, called the FTC's action "terrific."
"It's not ok for soda companies to hire dietitians to flog their products and not admit that they're taking their money," she said. "This is a situation in which consumer protection is absolutely essential, and the FTC is acting in the interest of consumers."
The enforcement action is the first the FTC has taken against major food and beverage industry groups for social media marketing.The agency urged the trade groups and nutrition influencers to remove posts or add proper disclosures and noted that future failures could trigger fines of more than $50,000 for each violation.
The Examination and The Post investigation revealed that American Beverage had paid a dozen nutrition influencers for videos that sought to undermine health warnings from the World Health Organization about aspartame, an artificial sweetener in many diet sodas. The investigation also found that the Canadian Sugar Institute paid at least a dozen dietitians for videos that encouraged people to give in to cravings for sugary foods, mocked advice to cut sugar intake, and urged parents to let children eat as much candy as they want.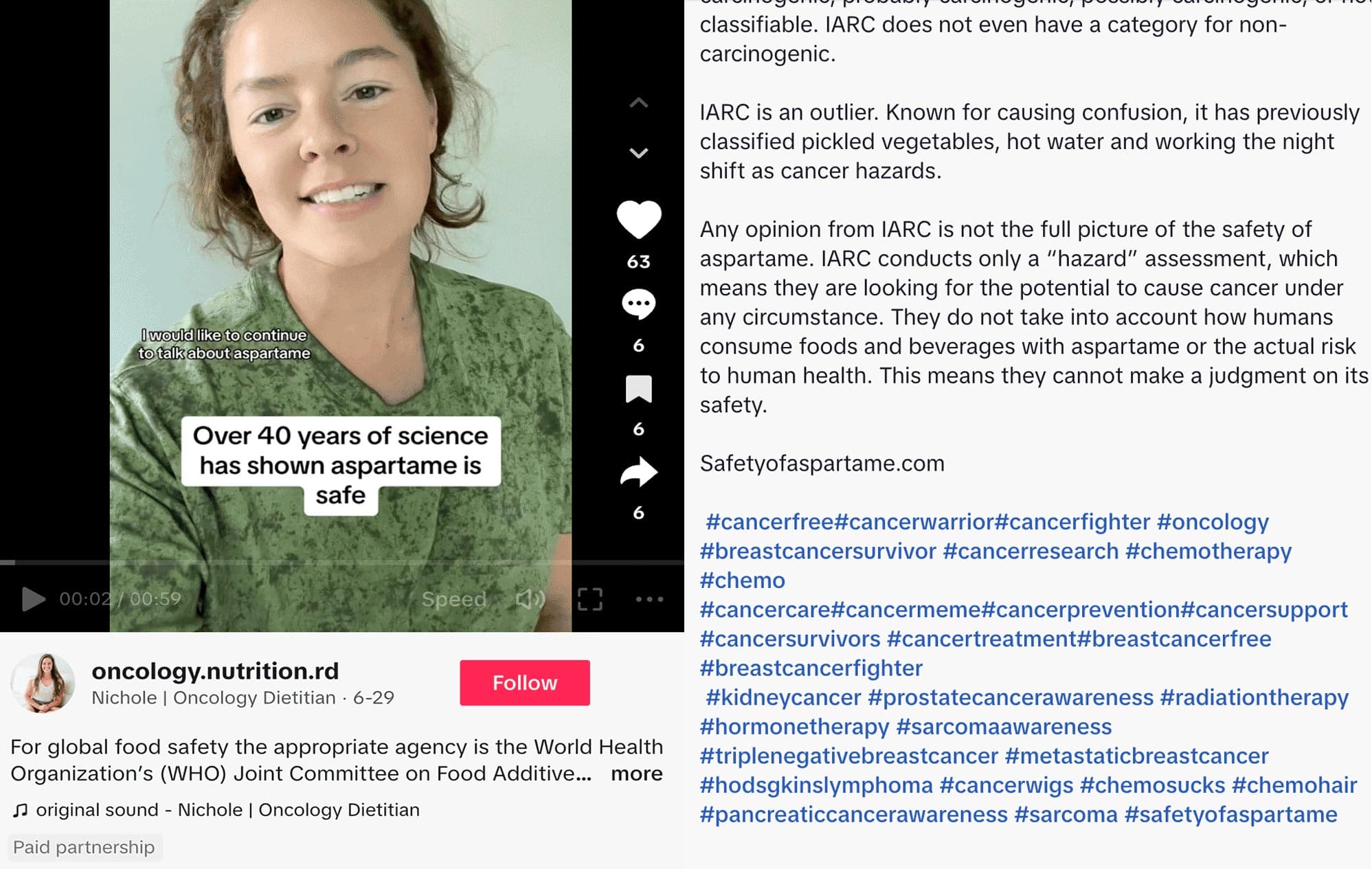 In both cases many of the influencers used phrases like #ad, #sponsored or "Paid partnership" in the text accompanying their videos, but didn't clearly name which organizations had paid them for the videos.
The FTC said in its warning letters that these types of disclosures were "inadequate" because social media users could easily miss them. It said that the videos themselves should include "clear and conspicuous disclosures" of financial relationships. The agency also said that if product endorsements are visible or audible in social media videos then financial disclosures should be delivered the same way.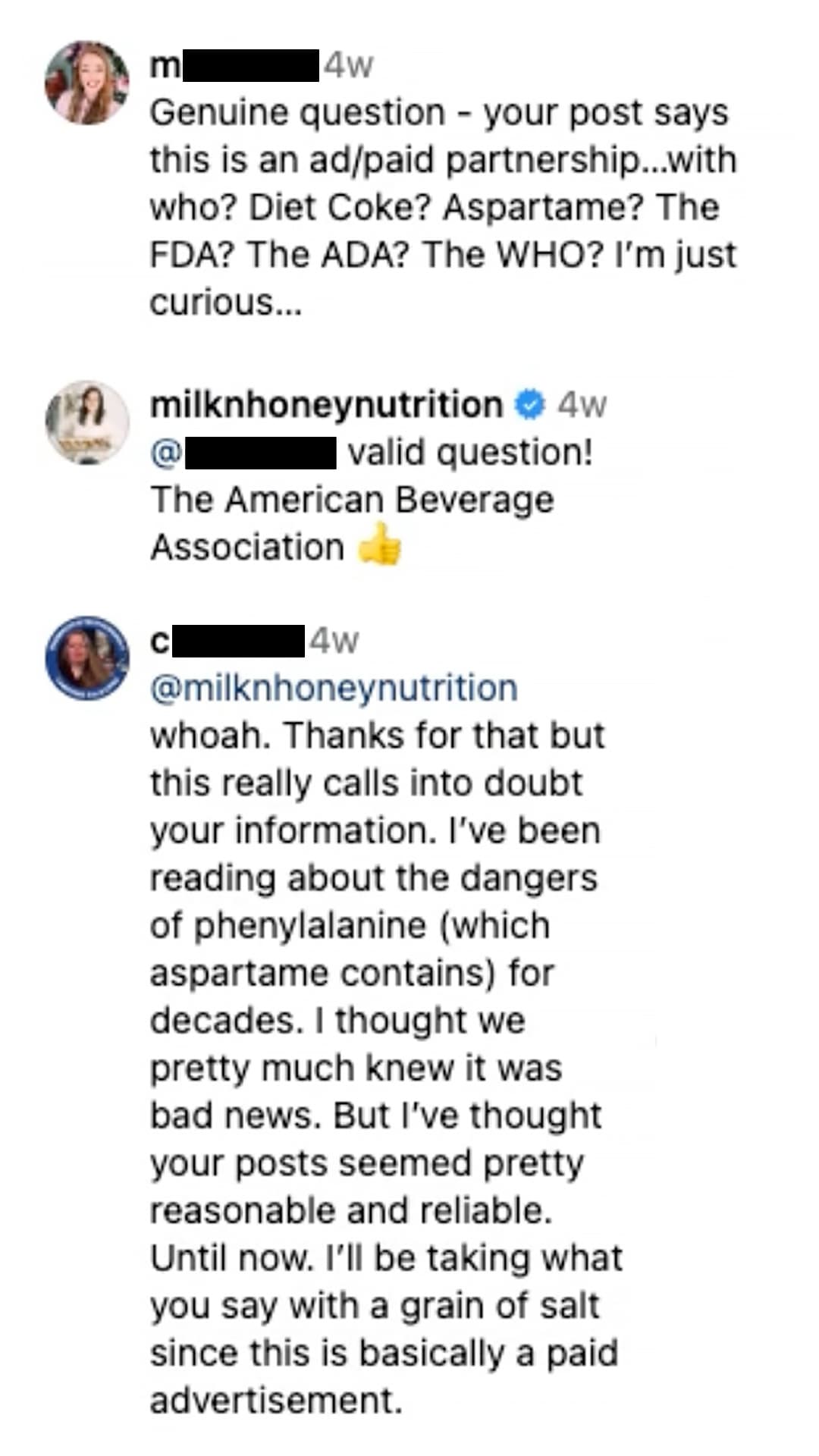 The FTC also noted that some posts used phrases such as #safetyofaspartame, while others used abbreviated names of their sponsors, such as "AmeriBev" or "cdnsugarnutr," that the agency said don't make clear that industry groups are behind the ads. Other posts didn't name their sponsors at all.
In comments made on several of the posts analyzed by The Examination and The Post, viewers expressed confusion and anger at the lack of transparency by dietitians they said they trusted. A key legal test outlined in the FTC Act is whether the sponsorship would surprise consumers and affect their opinion of the message's credibility — what the agency refers to as an "unexpected material connection."
According to Levine, the influencers and organizations receiving the warning letters may have deceived consumers by failing to fully explain their connection.
"Consumers need to understand who is paying these marketers, because it will give them a better sense of how much to credit the information being provided," Levine said.
The FTC said in its warning letters that the influencers and trade groups had 15 days to respond to the agency and detail the actions they would take to address the concerns. The FTC also instructed the trade groups and influencers to review all of their social media posts to ensure that they sufficiently met the disclosure standards.
The letters also note that any "violations of the FTC Act may result in legal action seeking a federal district court injunction or an administrative cease and desist order."
While the FTC has used warning letters as an enforcement mechanism for decades, the inclusion of notices of penalty in the letters marks a newer, stronger strategy for the agency to combat deceptive advertising practices by allowing it to collect civil penalties on further violations.
"If companies or individuals ignore these warnings, we are fully prepared to follow up on these warnings with enforcement actions," said Levine. "We are fully prepared to take them to court."
Help us report
We're continuing to report on nutrition influencers on social media, and we need your help. Fill out this form to tell us what you know. You can also reach out to us on Signal at +1-917-856-1745 or or send us an email.
In 2017, the FTC sent out more than 90 warning letters in response to social media posts from celebrities, including the Kardashian family, that the agency said failed to disclose their connections to brands. In 2020 the FTC sent 10 warning letters to influencers, including rapper Cardi B, for not disclosing paid social media ads for a tea marketer. The tea company agreed to pay $1 million to settle charges that it misled consumers and didn't adequately disclose payments to social media influencers.
Bonnie Patten, the executive director of Truth in Advertising, a nonprofit organization that combats deceptive marketing, said the FTC's most recent action was a "win-win for consumers" that puts companies and influencers on notice. "That is a big step and could have ramifications for social media influencers more broadly," Patten said.